Fairytale Garden
I wanted to recreate a photo like this for a while now. Years ago I made a similar photo with Archie and later with Pien. This is a super easy setup which you can do indoors or outdoors if you have a safe space to take photos. Keep on reading for some tips and behind the scenes so you can create your own Fairytale garden.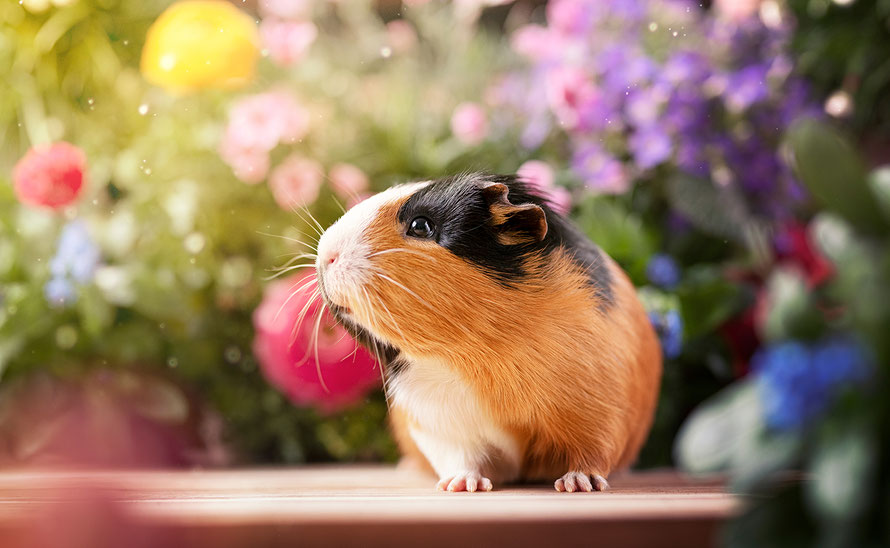 EXIF: Nikon D750 | iso 500 | 1/250 | f2.2 | 85mm
I went to a garden outlet store and bought some plants for my garden. Since it's March I cannot put my plants outdoors until May, because the temperature can still drop below zero. I've done a similar set up before with Archie and Pien - only they were outdoors. So I thought lets give this setup a try in an indoor setting. 
WHAT YOU WILL NEED
This setup is not difficult to create and you can use the plants for your garden or home afterwards. Try to find a garden outlet like I did or search for a store with cheap plants. You can also use one very big plant. As long as you can put it on it's side and it won't roll away you should be good to go!
You will need:
📷 Around 8 to 10 small flowers in pots
📷 Something to use as an underground. I like the idea of a natural underground like wood. I used two wooden cutting boards I bought for photoshoots.

I used 10 plants in total, including one to create a foreground and therefor the illusion of the viewer looking through a plant. 

Optional:
📷 Reflective screen to light up the shadow side. I placed mine on the right on the opposite of my light source (windows). You can also use a white sheet or some aluminium foil.
📷 Some other props like sun hats or glasses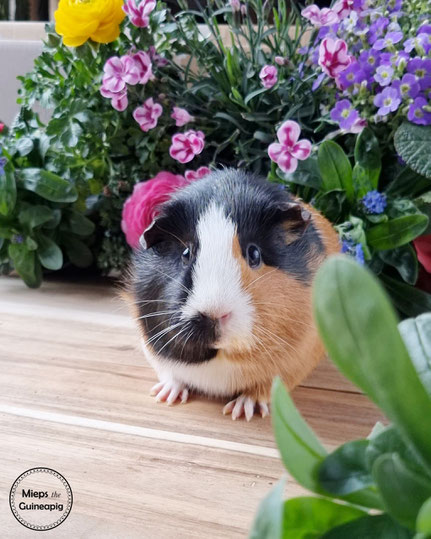 HOW TO BUILD THIS SETUP
I wanted to create a magical setting with a lot of colour. So flowers are the perfect prop to use. I stacked the pots on their side and added something behind them so they wouldn't fall. I put some cutting board I bought for photoshoots underneat them to create a natural underground. 

In total I used 10 plants in total to create this setup. I like to put something in the foreground of my image to create depth. So make sure to save one or two plants for that as well. 

When you are working with flowers make sure they are not toxic to your pet or make sure you have some help to prevent them from eating the flowers.
Below you can see some behind the scene photos of my setup.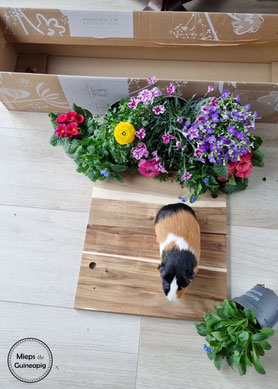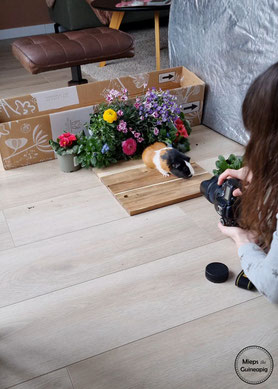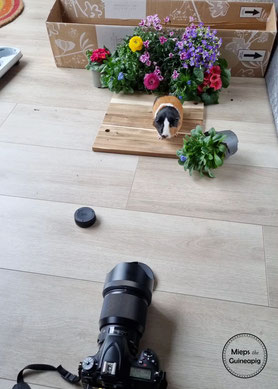 BEFORE AND AFTER EDITING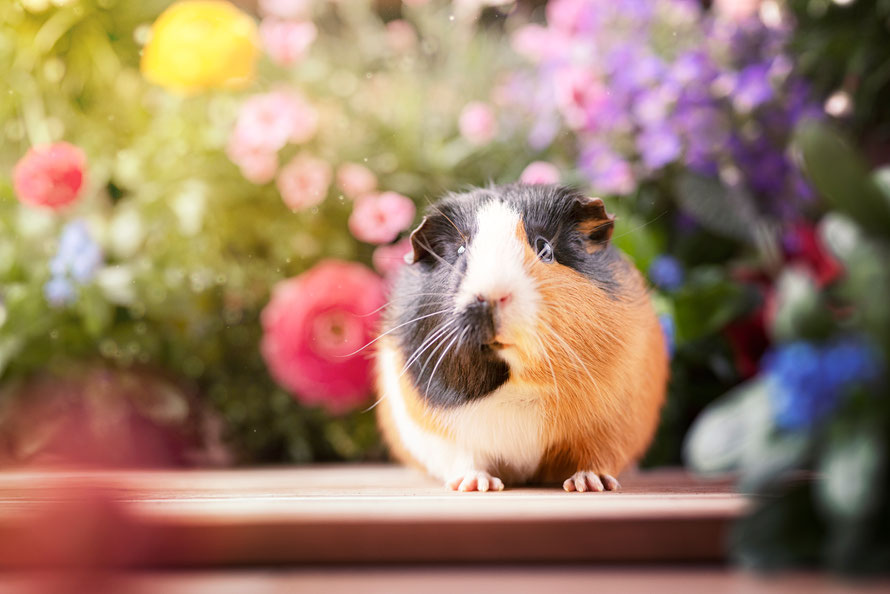 EXIF: Nikon D750 | iso 500 | 1/250 | f2.2 | 85mm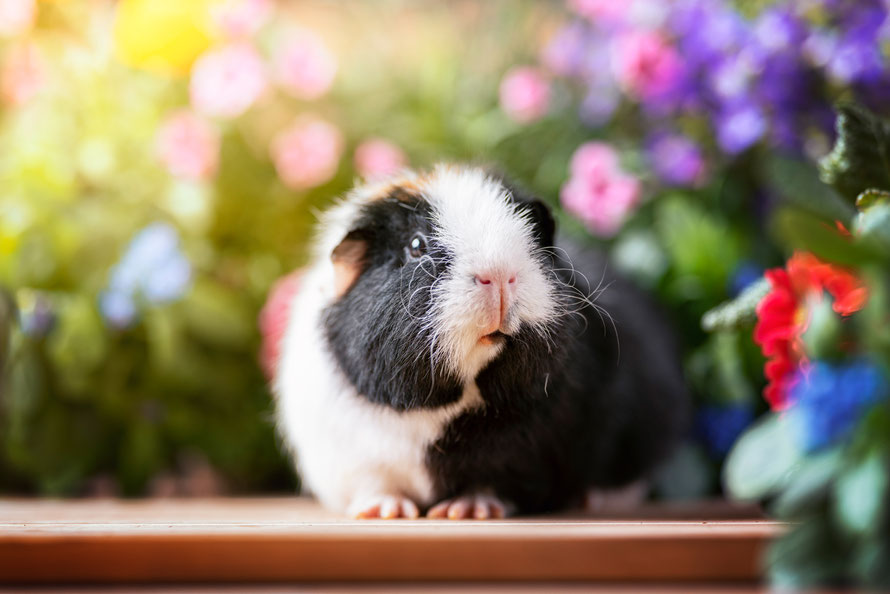 EXIF: Nikon D750 | iso 500 | 1/250 | f2.2 | 135mm
Hey... you might like this pin!
Pien Bow Tie Enamel Pin
To remember sweet Pien, I created a hard enamel pin of her wearing a black bow tie with glitters.
I love the idea of my piggies traveling the world and spreading joy, even after they've crossed the rainbow bridge.

This pin had glitter on the bow and is approximately 25mm (1 inch)
 
Free shipping • ships worldwide • ships in 1 - 3 business days
Pien Bow Tie Enamel Pin
including tax
Free shipping to the following countries: Afghanistan, Albania, Andorra, Angola, Anguilla, Antarctica, Antigua and Barbuda, Armenia, Netherlands Antilles, United Arab Emirates , Algeria, American Samoa, Argentina, Aruba, Australia, Austria, Azerbaijan, Bahamas, Bahrain, Bangladesh, Barbados, Belarus, Belgium, Belize, Benin, Bermuda, Bhutan, Bolivia, Bosnia and Herzegovina, Botswana, Bouvet Island, Brazil, British Indian Ocean Territory, British Virgin Islands, Brunei, Bulgaria, Burkina Faso, Burundi, Cambodia, Cameroon, Canada, Cape Verde, Cayman Islands, Central African Republic, Chad, Chile, China, Christmas Island, Cocos [Keeling] Islands, Colombia, Comoros, Congo - Brazzaville, Congo - Kinshasa, Cook Islands, Costa Rica, Côte d'Ivoire, Croatia, Cuba, Cyprus, Czech Republic, Denmark, Djibouti, Dominica, Dominican Republic, Ecuador, Egypt, El Salvador, Equatorial Guinea, Eritrea, Estonia, Ethiopia, Falkland Islands, Faroe Islands, Fiji, Finland, France, French Guiana, French Polynesia, French Southern Territories, Gabon, Gambia, Georgia, Germany, Ghana, Gibraltar, Greece, Greenland, Grenada, Guadeloupe, Guam, Guatemala, Guinea, Guinea-Bissau, Guyana, Haiti, Heard Island and McDonald Islands, Honduras, Hong Kong SAR China, Hungary, Iceland, India, Indonesia, Iran, Iraq, Ireland, Israel, Italy, Jamaica, Japan, Jordan, Kazakhstan, Kenya, Kiribati, Kuwait, Kyrgyzstan, Laos, Latvia, Lebanon, Lesotho, Liberia, Libya, Liechtenstein, Lithuania, Luxembourg, Macau SAR China, Macedonia, Madagascar, Malawi, Malaysia, Maldives, Mali, Malta, Marshall Islands, Martinique, Mauritania, Mauritius, Mayotte, Mexico, Micronesia, Moldova, Monaco, Mongolia, Montenegro, Montserrat, Morocco, Mozambique, Myanmar [Burma], Namibia, Nauru, Nepal, Netherlands, New Caledonia, New Zealand, Nicaragua, Niger, Nigeria, Niue, Norfolk Island, Northern Mariana Islands, North Korea, Norway, Oman, Pakistan, Palau, Palestinian Territories, Panama, Papua New Guinea, Paraguay, Peru, Philippines, Pitcairn Islands, Poland, Portugal, Puerto Rico, Qatar, Réunion, Romania, Russia, Rwanda, Saint Barthélemy, Saint Helena, Saint Kitts and Nevis, Saint Lucia, Saint Martin, Saint Pierre and Miquelon, Saint Vincent and the Grenadines, Samoa, San Marino, São Tomé and Príncipe, Saudi Arabia, Senegal, Serbia and Montenegro, Seychelles, Sierra Leone, Singapore, Slovakia, Slovenia, Solomon Islands, Somalia, South Africa, South Georgia and the South Sandwich Islands, South Korea, Spain, Sri Lanka, Sudan, Suriname, Svalbard and Jan Mayen, Swaziland, Sweden, Switzerland, Syria, Taiwan, Tajikistan, Tanzania, Thailand, Timor-Leste, Togo, Tokelau, Tonga, Trinidad and Tobago, Tunisia, Turkey, Turkmenistan, Turks and Caicos Islands, Tuvalu, Uganda, Ukraine, United Kingdom, United States, Uruguay, U.S. Minor Outlying Islands, U.S. Virgin Islands, Uzbekistan, Vanuatu, Vatican City, Venezuela, Vietnam, Wallis and Futuna, Western Sahara, Yemen, Zambia, Zimbabwe Show more Show less