''Pien and the tiny bookshelf''
A peek behind the scenes on how I created this image with Pien and the bookshelf. This is a photo that was easy to photograph and Photoshop. Although it took quite some time to make all the props I needed for this photoshoot. In this blog I'll take you with me through my creation process.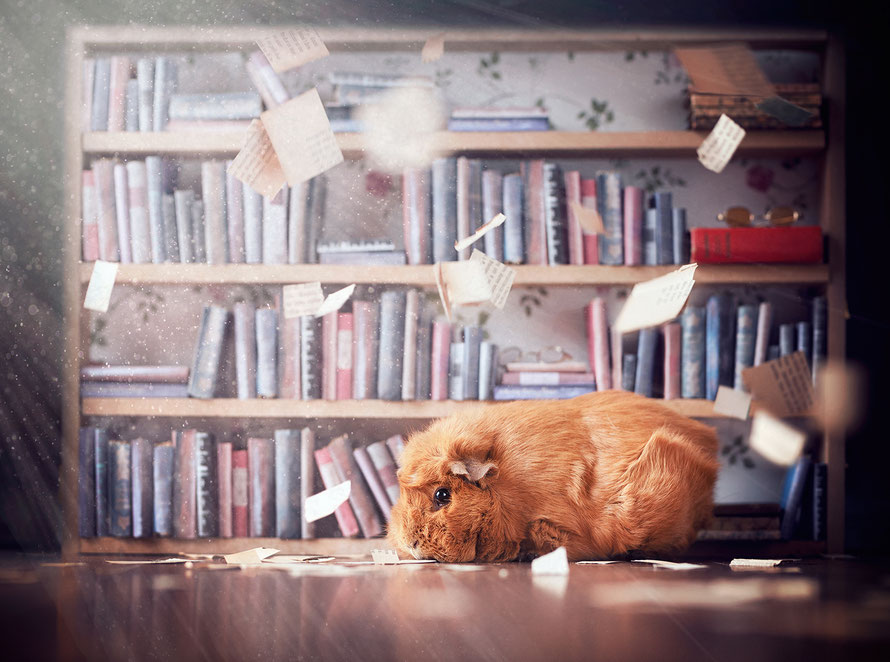 EXIF: Nikon D750 | iso 320 | 1/640 | f2,2 | 85mm
I had so much fun creating this image. It was a lot of work to create the tiny books and the bookshelf. Totally worth it though. I will definitely use this setup again. At first my idea was very different. I wanted to create an image as if I were looking through a keyhole. In post processing I didn't really like the look and feel of the completed image that way. So I proceeded without the keyhole.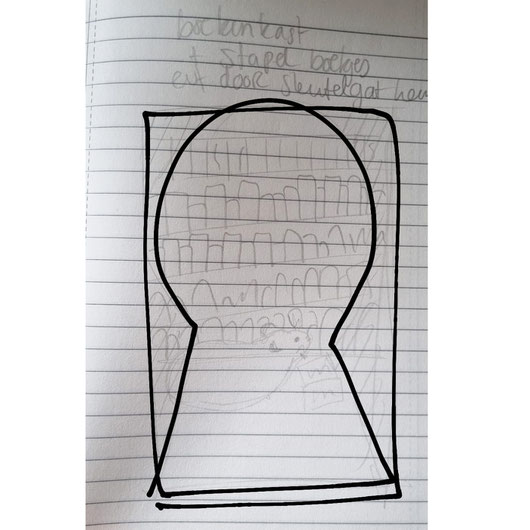 This was my initial sketch. 
CREATING THE PROPS
Creating the props took a lot of time. I spend around 1 hour making the bookshelf and around 8 hours making tiny books. If I wanted to fill the entire bookshelf I would have to spend over 24 hours creating mini books. So I decided to use photoshop to fill the shelves.
You will need:
* Some kind of material to make a bookshelf. I've used Medium Density Fibreboard (MDF) because my dad had some of it left from another project. I'd higly recommend useing material that is at least 12mm thick. Or else it will be very hard to assemble the bookshelf. 
* Photos of old books to print and fold. I've added some at the end of this blog for you to download.
* Old magazines or old books to cut pages from to the size of your tiny books
* Glue gun -  to glue the magazine pages to the printed book covers
How to make the books:
* Take photos of book covers, resize them to around 8 centimeters and print
* Cut pages from an old magazine or old book to the size of your mini book
* Use a hot glue gun to glue the pile of pages to your printed bookcover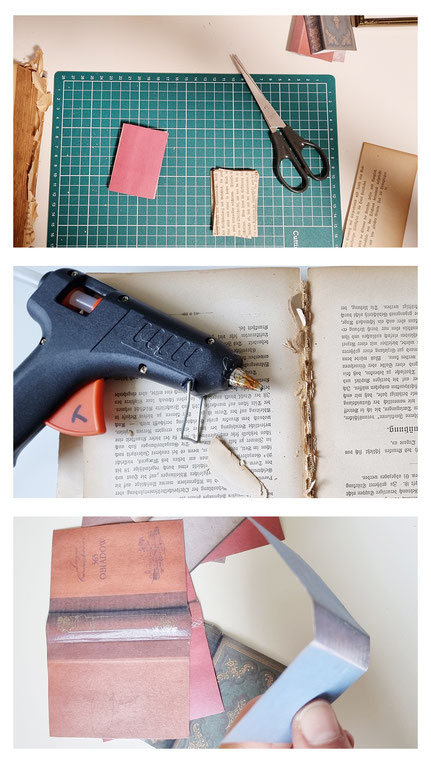 How to make the bookshelf:
My shelf was 40cm high and 60cm wide and approximately 6cm deep.
First you saw 5 pieces with the following dimentions: 60 x 6 cm
3 pieces will be the shelves, the other 2 pieces will be part of the bookshelf frame.
Saw 2 pieces of 40 x 6 cm. These will complete the bookshelf frame. 
Make sure to measure with your tiny books where to put your shelves. 
TAKING PHOTOS
You will need your props and a reflective screen. I've used some old laminate as a floor, but this is of course optional.  Some loose pages to throw around are also optional. You can decorate the bookshelf with other things than books. You could use a tiny plant, tiny glasses, tiny photoframes and so on. 
I did not make enough tiny books to fill the entire shelf. When I was finished with photographing the guinea pigs, I had to move the books to the other shelfs. It is very important to keep your camera in the same position so you can easily photoshop the books on the right shelf. 
Same goes for when you want to throw pages in the frame. You need to move each section of books, take photos with falling pages and repeat that process until your bookshelf is completely filled. When you don't move the books you will have pages flying over empty shelves.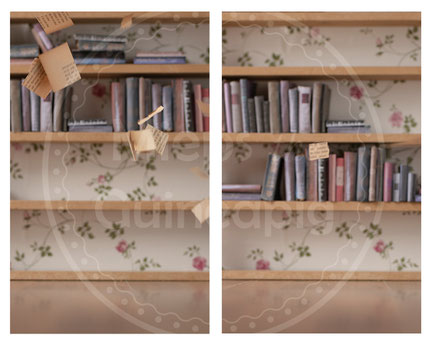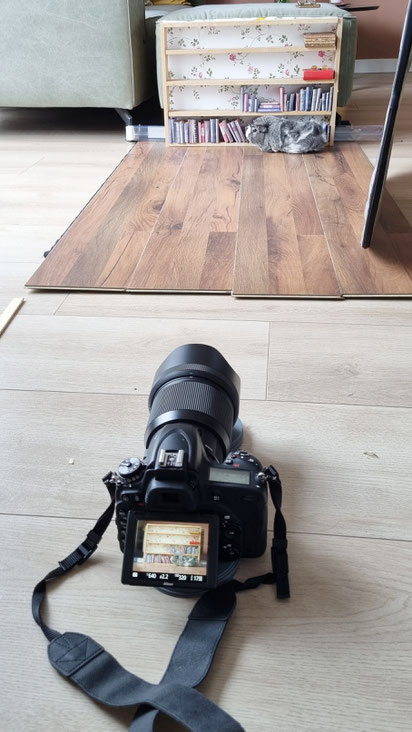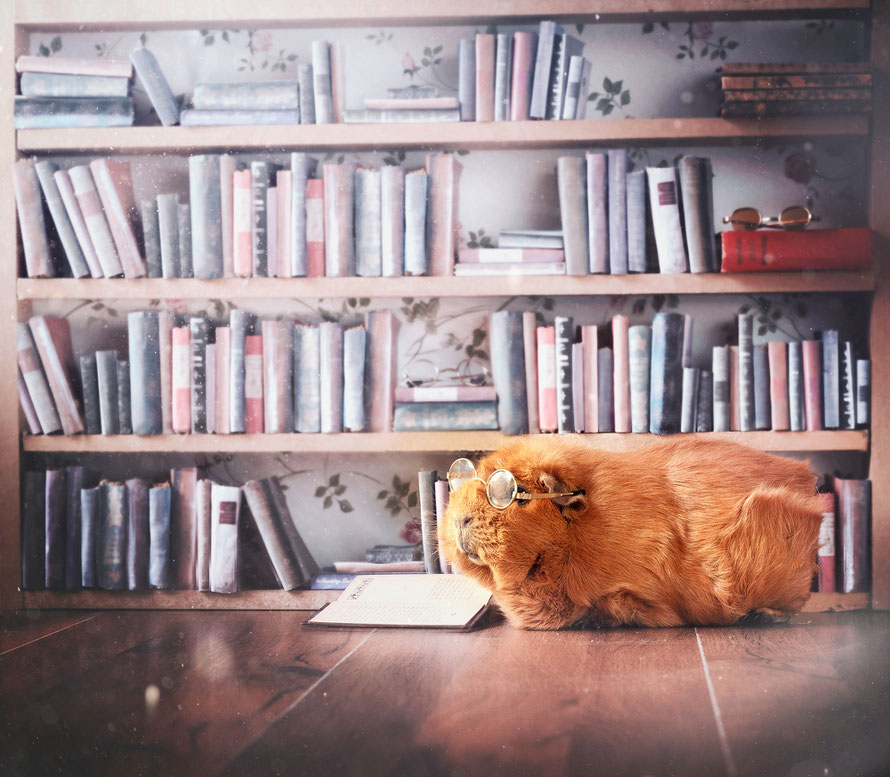 Book covers download
Book covers download
Here are some old book covers for you to print yourself. Have fun creating!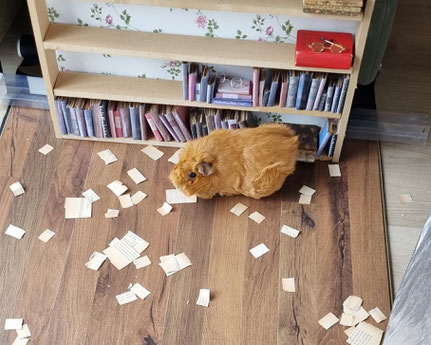 Hey... you might like this e-book!
Guinea Pig Photography Guide - Digital Download
The Guinea Pig Photography Guide will help you take cute photos of your guinea pigs or other pets.  Get inspired to take your own adorable photos of your pets. This is a digital download and contains 48 pages of inspiration.
You will receive this digital download as a .pdf file via email. When you receive the notification 'your order has been shipped' I have send you the .pdf via email. 
Guinea Pig Photography Guide - Digital Download
including tax
Free shipping to the following countries: Afghanistan, Albania, Andorra, Angola, Anguilla, Antarctica, Antigua and Barbuda, Armenia, Netherlands Antilles, United Arab Emirates , Algeria, American Samoa, Argentina, Aruba, Australia, Austria, Azerbaijan, Bahamas, Bahrain, Bangladesh, Barbados, Belarus, Belgium, Belize, Benin, Bermuda, Bhutan, Bolivia, Bosnia and Herzegovina, Botswana, Bouvet Island, Brazil, British Indian Ocean Territory, British Virgin Islands, Brunei, Bulgaria, Burkina Faso, Burundi, Cambodia, Cameroon, Canada, Cape Verde, Cayman Islands, Central African Republic, Chad, Chile, China, Christmas Island, Cocos [Keeling] Islands, Colombia, Comoros, Congo - Brazzaville, Congo - Kinshasa, Cook Islands, Costa Rica, Côte d'Ivoire, Croatia, Cuba, Cyprus, Czech Republic, Denmark, Djibouti, Dominica, Dominican Republic, Ecuador, Egypt, El Salvador, Equatorial Guinea, Eritrea, Estonia, Ethiopia, Falkland Islands, Faroe Islands, Fiji, Finland, France, French Guiana, French Polynesia, French Southern Territories, Gabon, Gambia, Georgia, Germany, Ghana, Gibraltar, Greece, Greenland, Grenada, Guadeloupe, Guam, Guatemala, Guinea, Guinea-Bissau, Guyana, Haiti, Heard Island and McDonald Islands, Honduras, Hong Kong SAR China, Hungary, Iceland, India, Indonesia, Iran, Iraq, Ireland, Israel, Italy, Jamaica, Japan, Jordan, Kazakhstan, Kenya, Kiribati, Kuwait, Kyrgyzstan, Laos, Latvia, Lebanon, Lesotho, Liberia, Libya, Liechtenstein, Lithuania, Luxembourg, Macau SAR China, Macedonia, Madagascar, Malawi, Malaysia, Maldives, Mali, Malta, Marshall Islands, Martinique, Mauritania, Mauritius, Mayotte, Mexico, Micronesia, Moldova, Monaco, Mongolia, Montenegro, Montserrat, Morocco, Mozambique, Myanmar [Burma], Namibia, Nauru, Nepal, Netherlands, New Caledonia, New Zealand, Nicaragua, Niger, Nigeria, Niue, Norfolk Island, Northern Mariana Islands, North Korea, Norway, Oman, Pakistan, Palau, Palestinian Territories, Panama, Papua New Guinea, Paraguay, Peru, Philippines, Pitcairn Islands, Poland, Portugal, Puerto Rico, Qatar, Réunion, Romania, Russia, Rwanda, Saint Barthélemy, Saint Helena, Saint Kitts and Nevis, Saint Lucia, Saint Martin, Saint Pierre and Miquelon, Saint Vincent and the Grenadines, Samoa, San Marino, São Tomé and Príncipe, Saudi Arabia, Senegal, Serbia and Montenegro, Seychelles, Sierra Leone, Singapore, Slovakia, Slovenia, Solomon Islands, Somalia, South Africa, South Georgia and the South Sandwich Islands, South Korea, Spain, Sri Lanka, Sudan, Suriname, Svalbard and Jan Mayen, Swaziland, Sweden, Switzerland, Syria, Taiwan, Tajikistan, Tanzania, Thailand, Timor-Leste, Togo, Tokelau, Tonga, Trinidad and Tobago, Tunisia, Turkey, Turkmenistan, Turks and Caicos Islands, Tuvalu, Uganda, Ukraine, United Kingdom, United States, Uruguay, U.S. Minor Outlying Islands, U.S. Virgin Islands, Uzbekistan, Vanuatu, Vatican City, Venezuela, Vietnam, Wallis and Futuna, Western Sahara, Yemen, Zambia, Zimbabwe Show more Show less